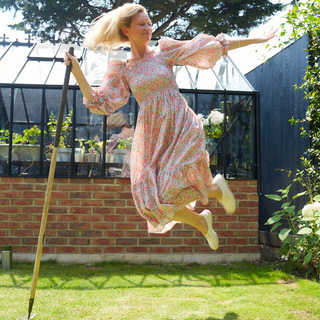 Seasonal Shift Club
Part Wellness Coach, Life Planner and Personal Shopper for busy 21st century women who want to live a naturally fulfilling life 
Join the nature movement!
When you transform the way you understand and harness nature's energy, you will transform your life.
'Modern life is busy and the constant choices to live a happy and healthy life, overwhelming. We are also at information overload so this membership club has been designed to be the super edit, practically steering you through the seasons helping you embrace the shifting energy and make the best choices in tandem with your mind, body and soul's intended rhythms.

The membership charters the unique natural energy of each season one step at a time helping you sync your mind and body, beauty and self-care products and lifestyle choices.
Myself and my team of specialist sustainable health, beauty and lifestyle experts will be your constant guide to help you make genuine cleaner, healthier choices for all areas of your life. We cut through the green washing and curate the best health beauty and lifestyle products.

Depending on what membership package you opt for you will receive gorgeous natural beauty and self-care products to make you look and feel your best all year round and simple, practical tips, tricks and exercises to learn how to have more effortless flow in all areas of your life.

You'll start to experience

FLOW
EFFORTLESSNESS
JOY
PERSONAL GROWTH
FULFILLMENT
PURPOSE

Love always,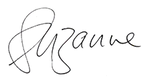 SPRING
March, April & May
Vernal Equinox - Monday, March 20
SUMMER
June, July & August
Summer Solstice - Wednesday June 21
AUTUMN
September, October & November

Autumnal Equinox - Saturday, September 23
WINTER
December, January & February
Winter Solstice - Thursday, December 21
'What a gift is was to be able to tap into Suzanne's vast wellness knowledge, whether that's for teen beauty products, a spa close to London, or her go-to perimenopause expert.'
'I want to thank you for the thought and consideration you put into my 1-1 The personalisation was brilliant.'
Seasonal inspiration delivered to both your inbox and your postbox!
Onolla balances online and offline experiences and is reflected in our variety of membership options.
A treat for all your senses, memberships allows you to touch, smell, hear, see and sometimes even taste the seasons through our various deliveries...
When: The start of every season
Suzanne's overview voice note
Grab a cuppa and sit down and listen to an inspiring voice mail from Suzanne talking you through the season and how you can harness the best of its offering with recap notes to refer back to.
When: 1st of every month
Onolla calender planner
The month at a glance with highlights from natural cyclical events, moon phases, celebrations, festivals and other dates to plan your diary around, and guide and inspire you.
When: First week in the month
Suzanne's overview voice note for that specific month.
A more specific voicemail with in-depth detail on the energy of that specific month, what you need to do, personal tips and tricks, plus what Suzanne is planning to make the most of the month.
When: Every Monday morning
The Magical 3 tips for the week ahead to your inbox
Simple tips and tricks and our favourite finds from Onolla's contributing specialist editors (including lots of beauty and wellbeing from Suzanne, plus our seasonal food editor, moon editor, sustainable fashion editor and gardening editor, to name but a few) to help you look and feel your natural best.
~ Cat Deeley ~

'Right from the moment you open the box you can tell it is a complete
labour of love! Nothing has been done by half with an incredible list of
products and advice from all different aspects of health and beauty'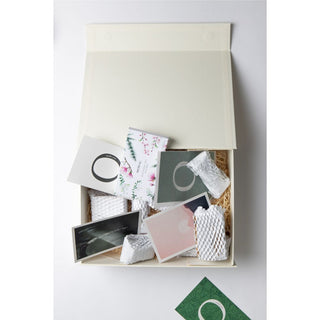 Delivered to Your Door
WHEN: MONTHLY
Therapy in a Box worth minimum £75
To celebrate and kick-start every month, you will receive a beautiful box of well-formulated and high-performing natural beauty and self-care deluxe samples, hand-picked by Suzanne and her experts, plus tips on how to get the most from them.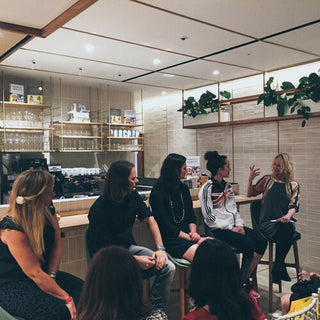 What members also receive
(membership package dependent)

Quality journalism created by award winning and respected journalists from top magazine and newspapers who are specialists in sustainable health, beauty, fashion, lifestyle, food and wine.

1-1 time with Suzanne via her Concierge services

Access to Suzanne's Zoom Room where you can meet sought-after experts from her coveted little green book of specialists

Fast-track appointments with world-class practitioners

Digital postcards, highlights emailed direct with Seasonal Health & Beauty Hacks
Exclusive Savings on brands that Onolla loves and Suzanne's Concierge services

Special invites to Onolla's invitation-only events from brunch and supper clubs to retreats online and IRL
Seasonal Shift Club Memberships
Memberships have been designed to cater for everyone depending on investment of time, money and just how far you want to dive into Onolla's Living with the Seasons guides. We can take your transformation to a whole other level depending on which you choose...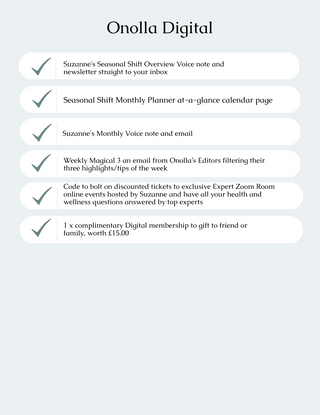 MONTHLY £15
Who is the Digital member?
You are dipping your toes into seasonal living. If you travel a lot and aren't home enough to receive the product boxes, this is perfect for you. Your priority is using inspirational seasonal living tips from trusted experienced experts. These will be delivered regularly to your inbox.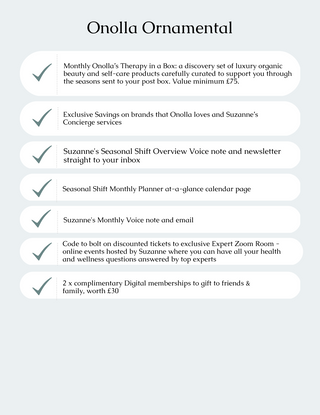 MONTHLY £85
Who is the Ornamental member?
You are the ultimate product junkie who is curious about seasonal beauty and wellbeing. You love trying gorgeous organic or natural beauty products and are eager for as many tips and tricks as possible. This membership is a Pandora's box of advice and a monthly discovery box of goodies.